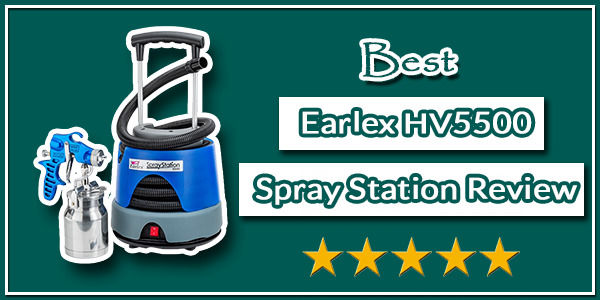 Earlex is one of the best known high volume low pressure (HVLP) paint sprayer and power tools manufacturing company. In this article, we are going to review the most reputed airless paint sprayer product named as Earlex HV5500 Spray Station Review. Earlex HV5500 Spray Station is equipped with the most advanced DIY professional paint sprayers tools and paint sprayer gun. Get the fast and professional-grade finishing Earlex spray station 5500. Earlex HVLP spray station system is s semi-professional unit specifically designed for serious woodworking enthusiasts. It is also an ideal airless paint sprayer to If you are in a hurry and can't read our full detailed review on that product, you can have a look at customer reviews on Amazon.
Not only the Earlex 5500 Spray Station be a great tool for finishing all your woodworking projects with perfection but you can also use this spray station for a wider variety of painting projects around your home and shop. Earlex HVLP 5500 is a top airless paint spray station when you are dealing to paint the home interior wall and trim, exterior walls, wood fence, wooden deck or and variety of painting projects around your home.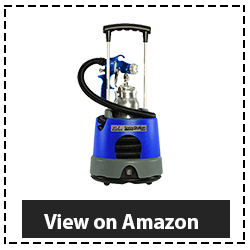 The cleaning and usage of this great quality spray station are so easy. You can spray a wide variety of coating with this sprayer. The water-based and oil-based materials including varnishes, lacquers, polishes, polyurethanes, stains, enamel, primers, cellulose metallic finishes, thinned latex and multiple kinds of dyes can be sprayed with this best value paint sprayer gadget.
HVLP stands for high volume low pressure which means you will get a higher volume of air flowing through the spray gun at low pressure. This will give you a very high transfer efficiency with virtually no bounce back. Hence you will get maximum control with minimal overspray with the Earlex 5500.
Earlex HV5500 Spray Station comes with some super quality features that you must give them a look.
Earlex HV5500 Spray Station has 650-watt turbine motor to efficiently produce the 42 CFM of air 2.2 PSI
The turbine also includes onboard storage
13-foot long air hose
5 feet long electric cord for electric supply
Professional grade metallic paint gun
Convenient carrying handle for easy mobility
The best paint sprayer unit comes with 2.0mm full stainless steel tip and needle
Pattern changing system with 3 patterns of fast push and click change
Broadly the complete Earlex HV5500 Spray Station consists of an HV5500 paint gun and an HV5500 cup. Its pro metal paint gun provides the ultimate control and durability for all your spray projects at home. The professional gun features a fast push and click feature for changing the spray pattern. The pro-gun of Earlex HV5500 Spray Station also features:
A paint volume control dial
Dynamic control action trigger
Teflon coated 1 quarter metal paint container
The combination of pro-gun and powerful turbine makes Earlex 5500 Spray Station a perfect tool to achieve a perfect showroom finish on all your spraying projects.
In terms of specification for this all-purpose airless paint sprayer, the best price unit is dominant here also.
Earlex HV5500 Spray Station is good for people with limited space
12 x 12 x 26 inches design dimensions
Total 12 pounds weight for the whole
HVLP technology paint sprayer
Earlex HV5500 Spray Station comes with a limited 2 years of warranty. In this period you will get free replacement of repairing of the product depending upon the nature of the fault. All of us need the best value paint sprayer in lowers price. You will be glad to know that this smart airless paint sprayer is best affordable and easy to buy even for low budget people. This cheap price Earlex HV5500 Spray Station under 300 is the winner for the best paint sprayer machine award in its category.
Pros
Top-quality high-rank airless paint sprayer
Cheap price affordable for all
Best paint sprayer for home and small shops
The most important point considered when assessing any product is its quality. The Earlex HV5500 Spray Station produces the highest quality finish and leaves a minor space for the other coating which is often required by the professional wood sprayers. So go for it by clicking the provided link for amzon.com for direct purchasing of this ideal paint sprayer for home use.
Conclusion
If you consider the noise as an issue than Earlex HV5500 Spray Station is not perfect for you. This is the only recommended paint spray device for the people having a low budget and who want their painting jobs done with better accuracy and excellent quality finishing. Earlex HV5500 Spray Station under 300 is best for you. Must give it a try and you will find that the Earlex HV5500 Spray Station is worth buying paint sprayer adding value to your money.
We highly recommend this product!
For more Exciting offers and deals visit  Airless Paint Sprayer
You can also have a look at these other articles as well!