Painting using an ordinary sprayer of professional paint sprayer is a simple job but sometimes it turns into most serious results if you ignore the safety measures that are recommended for all DIY projects or other commercial paint sprayer jobs. Additionally, you will get a free safety and user manual with all units of best airless paint sprayer 2021 but to make your paint job much safer than ever we have come to useful safety tips for the airless paint sprayer.
The paint contains the particular that is really harmful to your health and no one can ignore the health risks. To keep your state unchanged before and after starting the paint job just keep some few tips in mind. These are going to be really helpful in your life. To prevent yourself from any injury by reading the following safety tip.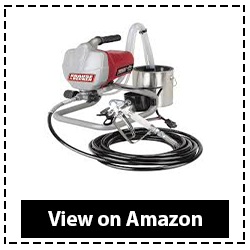 Before starting I would like to talk about the most common risk reported while using the airless paint sprayer of paint gun manufactured by any brand. These reasons are not the manufacturer's faults but these are the only and only human errors.
The explosion and Fire Risk
The fire and explosion occur only if there are sparks, flames or current present near the painting and are the factor of air circulation in that are the area is also poor. You need to put some extra attention while spraying highly flammable fluids.
Many of the sprayers and paint boxes have the sign of which gives information that the fluid can catch fire cause explosion from which you can burn and death also occurs in some cases. Apart from the ignition of vapors by an open spark of flame the strong friction or static electricity produced by the nozzle of paint gun also cause a fire.
The ungrounded paint system also produces static electricity due to the friction of paint fluid and metallic nozzle the excessive amount of this charge can burst into flames.
Prevention from Fore and Explosion
To prevent the explosion and fire during the paint job follow some tips to get yourself safe.
Do not use paint sprayer closer to electric appliances, electric heater and other material which cause the fire
Do not use cigarettes while painting
Spray in the open area when there is proper ventilation of air, you can use the pedestal or another kind of fan if needed
Try to use gas-powered paint sprayers only for outdoor paint jobs
Only use grounded metal pails and grounded hoses
For the electrically powered paint sprayers use the 3rd ground or neutral wire outlet
Trigger off immediately when paint sprayer is not in use.
Injection of paint or other fluid material which is being sprayed
The injection is the process of passing high-speed fluid from a small opening like paint passing through the small nozzle hose or tip of the paint gun. Sometimes this produces a high-speed fluid stream which is enough power to pierce through your soft skin entering your blood. Simply the injection is the process of high speed pressured fluid piercing your skin to damage the inner organs of your body.
The main cause of the injection as-is:
Using the damaged spray gun or loosely fitted nozzle
Placing your hand near the tip or gripping close to paint streams
If you get intact with the injection do not take it easy as any ordinary cut. Rush to a nearby doctor and have proper treatment.
Prevention
From the famous saying,
"An ounce of prevention is worth a pound of cure"
So follow this instruction in terms to adopt safety tips for airless paint sprayers.
Use a tip safety guard
Do not hold paint gun closer to the tip
User gloves and other hand masks
Wear respirators and safety glasses
Point the gun always in the direction opposite to your body
Use proper suit kit while painting
You should wear proper outfit while using paint sprayer of any type no matter either it is airless paint sprayer gas-powered or electric powered. The suitable kit will protect your skin and eyes from the harmful vapors of paint. Wearing the proper uniform, gloves, eyewear, and footwear will not only protects you from the harmful effects of paint and thinners bit also gives an outstanding professional paint sprayer look. A painting mask is also an important part of the safety kit as this will protect your face and reduces the chances of respiratory problems. So if you accidentally get paint or other spray material on your face or skin then immediately wash it with care and don't let it dry on your body.
Perfect ventilation
Make sure that there is enough ventilation where you are working with paint sprayers. This will also help the paint to stick quickly. It is recommended to maintain room temperature even in cold weather. But it doesn't mean you breathe in the open air, must use paint mask.
Do not expose your paint to sunlight
It is recommended to cover your paint and protect it from sunlight that could cause it to break. The aerosol in the paint far from the heat source for adding more safety. So follow some optimistic approaches to keep your paint protected.
Protect your body from the paint
Of course, this is not intended that a person paints himself rather than to paint the surface. But whatever the case is you should protect your hands, face and all parts of your body from the painting fluid.
Stay away from Wires and bulbs
Never ever paint the bulbs and damaged cords of electricity. This could cause a fire as the paint is the highly flammable material. So it is wise to spray only walls and other materials where there is no risk.
This is all from our side, If you want to buy new airless paint sprayer for your home or furniture, please visit the homepage and read our full buying guide.
Conclusion
In the final verdicts of this article focusing best safety tips one should keep in mind while using the airless paint sprayer. So please make some measures to improve your health safety reducing the risks. Hopefully, the above mentions tips will help you in order to a user paint sprayer for your personal and commercial home in-home or for outdoor projects. Read them again and add value to your life.
For more Exciting offers and deals  Click Here