Disposing of the leftover paint without care could be harmful to the environment. For all newbies and entry-level painters, who did not know how to dispose of latex paint in the right way? Airless paint sprayer pro team has brought this informational article with a variety of easy ways to dispose different types of paints. So go through the article and find the best piece of information, regarding How To Dispose Of Latex Paint!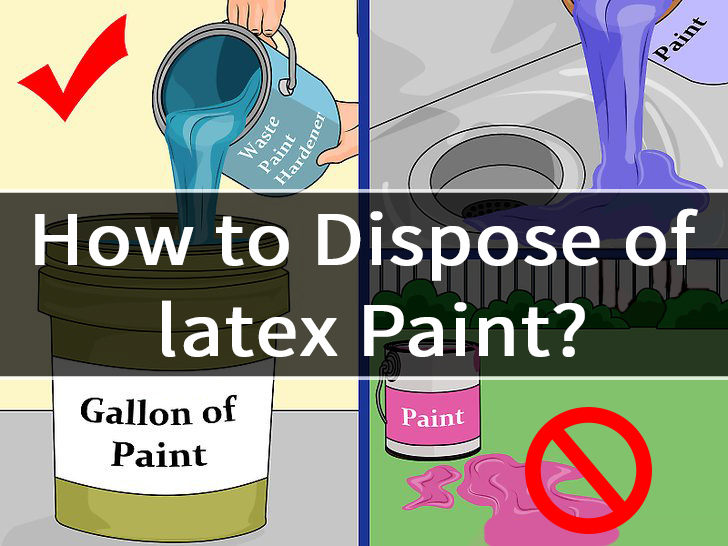 Spraying your home or commercial property is an easy way to make it beautiful. It also extends its life. But this could also be a serious issue for health and environment if it is not disposed of properly. It is very common that, when you end up your painting work almost half of the paint can be left unused.
Discarded paint is hazardous. Its toxic nature can leak into the ground. It can contaminate the tanker or cause injuries. After every paintwork, there left only two options. One is to store it for later use and the other is to waste it.
Dry The Latex Paint First Before Disposal:
If your final decision is to throw out the paint, let it dry first. Wet latex paint is harmful. If you are dealing with a minor amount of paint left in the bottom of your paint container thane you can dry it by putting the can under the sun. If the latex paint is more in quality than try adding some shredded waste papers to soak the paint helping to speed up the drying process. For large scale better disposal of latex paint buy a paint hardener and mix it with your paint. After drying you can easily throw the block of dry paint into your garbage.
Let The Professionals Do Your Job:
In many areas, these exist waste management companies providing services for proper disposal of latex paint. They will charge a small amount of money as a fee for doing your work. The companies like PaintCare and Habitat for Humanity positively accept the paint leftover and recycle it in the right way.
The following provided are some of the experts' recommended methods to waste your leftover paint in a safer way.
Use The Sunlight And Air:
You can do it using the air and sunlight. But this method is only for 1 or 2 inches of paint left in the container. For this, remove the lid and let the paint dry in open space. In the meantime, protect the paint from kids and pets. Also, prevent it from freezing and rainwater.
Using Cat Litter:
The clay-based cat litter is also one of the best techniques used to dispose of the paint. Just mix the equal amount of clay-based Cat Litter and let it dry for 10 to 20 minutes. The time depends on the amount of paint. When it gets dry then you can simply throw it in your trash.
If there is no enough space in your paint canister to mix the accurate quantity of Cat Litter than you can pour some paint into a plastic bag or any other container such as a shoebox, plastic tub, etc.
Paint Hardener:
These substances are used to convert liquid paint into a solid block of paint. These paint hardeners should be mixed by following the instruction given on the latex or stain packing. After mixing properly the paint will become similar to adhesive oatmeal. So it will not tumble out anymore.
Donate The Extra Paint:
Donating the extra paint to a school, theater or any non-profit public welfare agency is another excellent approach. In this way, the extra paint could be utilized which is far better than wasting. You can also ask your friend if he or she is going to need paint or not.
Extra Coat:
Rather wasting the paint, it could be used to paint the garage or pet house (dog house). You can also use it for an extra coating of your outer storeroom or other.
Storage Of Latex Paint:
Storing of paint for future use is also good. This will reduce your expenses too. For longer time safe storage of paint must keep these points in your mind.
Seal It Properly:
To prevent the paint from drying you can keep it sealed for a longer duration. Place the can cover and carefully push with the rubber hammer. If you did not have ant thing to cove the face of paint container you can use a piece of wood and a plastic sheet for air tighten the seal.
Plus consider the enhanced storage of paint by:
Storing it in a cooler and darker place
Use one container by mixing the paint left in 2 or 3 cans.
Avoid using a screw or other sharp tool for reopening the paintbox
Oil-Based Paint:
Oil-based paint is also harmful to the health and environment. These are much difficult to dispose of as compared to latex paint. For all oil-based paint, it is good to hand over them to the waste management centers or paint recycling center. Look for the nearest center on the map.
Good Estimate For Next Time:
Try to estimate using Benjamin Moore's paint calculator. This will help you to decide the nominal amount of paint required for the area you are planning to paint. The calculator is available for both room calculator and project calculator. So you only buy the required volume.
For more Exciting offers and deals visit our Home page