Here, in this Graco 395 vs Titan 440 comparison guide 2021. We will discuss their difference in price, performance, construction, features, and specification. You will get all unbiased trusted information only and only here in this APSP review and comparison guide for airless paint sprayers 2021. The full A to Z airless paint sprayer review and comparison guide for Graco Ultra 395 Pc vs Titan Impact 440 airless paint sprayer is given. So let's start!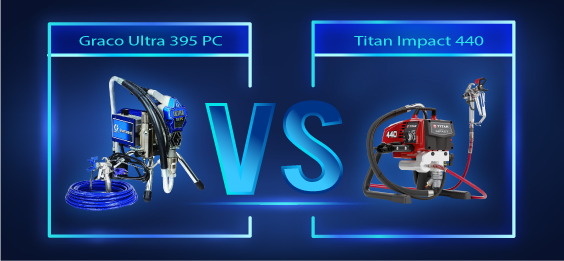 Graco 395 vs Titan 440 Airless Paint Sprayer Comparison Table 2021:
A detailed comparison table for Graco 395 vs Titan 440 paint sprayer is also provided so you can match the features and specifications of your screen. This will assist to make your selection.
| | | |
| --- | --- | --- |
| Feature/specification | Graco Ultra 395 PC – Runner Up Airless Paint Sprayer | Titan Impact 440 – No.1 Airless Paint Sprayer |
| Brand | Graco | Titan |
| Model | Ultra 395 PC | Impact 440 |
| Type | Electric airless paint sprayer | Electric airless skid sprayer |
| Motor | 7/8 HP | 7/8 HP |
| Max. PSI | 3300 | 3300 |
| Max. GPM | 0.54 | 0.54 |
| Tip Size | 0.023 | 0.023 |
| Hose Length | 200' | 300' |
| Throw Range | Less | More |
| Weight | 19 kg | 42 lbs. |
| Gallons Per Week | 50 | 50 – 75 |
| Best for | Small paint jobs | Small paint works |
| Voltage | 120 VAC, single phase | 120 VAC |
| Design | 4 legs design | Skid design |
| Anti-clogging technology | Yes | Yes |
| Price | Check Price | Check Price |

The greater value and non-stop performance have made Graco Ultra 395 PC as the most popular product of Electric Airless Sprayer industry. Graco Ultra 395 PC Electric Airless Sprayer is a pro pick for professional daily use. This good design paint sprayer provides a wider range of features. Some of them are provided below.
Key features of Graco Ultra 395 PC paint Sprayer
ProConnect
Endurance Pump
Smart Control
Easy out Pump Filter
Advantage drive
Cooling fan and enclosed DC motor
Swivel inlet suction hose
Stainless steel frame
Customized pressure adjustment
ProConnect
ProConnect is the feature for adding more comfort to use. Through this, the Replacement of the pump is much easy. User can change it in a single minute following the 3 steps.
Endurance Pump
Endurance pump features the longer two times more durability as compared to the other next paint sprayer unit. Its QuickAccess intake valve also provides flush cleaning. The solid compact build with stainless steel, chrome rod, and metallic gearing also add value in making it stronger.
Smart Control
This (Smart Control )feature make sure the delivery of the consistent and smooth flow of paint at variable pressure. Smart control makes Graco Ultra 395 PC Best Electric Airless Sprayer an ideal sprayer for smaller tips mostly used finest quality finishing.
Easy Out Pump Filter
The vertical design for filter and screw fitting making it easy to replace on the job site. This vertical design easy out pump features the anti-clogging technology and also reduces the spills. You can clean with only a few gallons of liquid.

Pros
Cheap price airless paint sprayer from Graco
Best electric sprayer for home
2 times longer life as compared to competitors
Limited lifetime warranty and standard 2 years of warranty
Cons
Slighter range as compared to titan impact 440

Impact 440 is the only latest technology skid paint sprayer for expert quality finishing. Titan is USA based airless paint sprayer brand offering the unmatchable value in their paint sprayer products as compare to competitors.
Titan impact 440 Airless skid sprayer comes with the RX-80 spray gun, 50 feet long hose and reversible paint spray tip. The ergonomic design and interactive finger placement structure provide an excellent degree of control for longer use. You can customize the 2 fingers or 4 finger use according to requirements.  
Titan impact 440 Airless skid sprayer can handle the multiple paint materials. Even newbies can spray the enamels, latex, transparent stains, lacquers, and thick paints. The fair price and comfortable use make it a top pick airless paint sprayer for contractor application.
Auto oiling feature so Titan impact 440 Airless skid sprayer most liked this not only enhance the machine performance but also smoothen the painting process. Titan impact 440 Airless skid sprayer is not fully automatic oiler machine you need to press the button in terms to lubricate the parts.
Features Of Titan impact 440 Airless Skid Sprayer
Same like Graco Ultra 395 PC the Titan impact 440 Airless skid sprayer also has some great feature that is listed below:
PermaLife Cylinder
Full-size manifold type paint filter
EPC – Electric Pressure control for flash cleaning
Surelflo valve
Automatic oiler
Quad Plus packing
All paint sprayers must be cleaned before and after the use. The electronic pressure control cleaning system does the job for you after triggering the spray for the whole day you can clean it with pretty easy options.

Pros
Amazing warranty and outstanding performance
Engineered for longer life
USA quality airless paint sprayer
Cons
Best paint sprayer for smaller jobs and DIY projects
Graco 395 vs Titan 440 Airless Paint Sprayer Comparison
Graco 395 and Titan 440 both are top tier airless paint sprayers manufactured and marketed by the top competitive leading companies Graco and Titan. This pair of airless paint sprayer is at the height of recommendation and best seller airless paint sprayer products by the respective brands. Graco 395 and Titan 440 are perfect for smaller projects.
As Graco 395 are Titan 440 specifically engineered for the small jobs there for these are best performance when it comes to paint small home interior, small commercial, property caring, fence painting, exterior, deck painting, etc. while doing the small jobs both Graco 395 and Titan 440 prevent overspray while delivering the perfect finish quality, durability, reliability and unmatchable value. The paint Skimps rate is minimal about to none for both for these airless paint sprayers.
Graco Ultra 395 pc and Titan impact 440 paint sprayers are full professional-grade airless paint sprayers. These are also the priority choice of contractors. Their excellent working for small tasks also makes them ideal paint sprayers for homeowners and DIY users. For all professional and commercial paint sprayers, these high-quality paint sprayers will easily handle their small works by leaving the heavy-duty paint sprayers free for the larger spray tasks.
Power and Performance Comparison of Graco 395 vs Titan 440
The motor fixed in both the best price airless paint sprayer is capable to produce the same amount of power as the powered generating capacity and performance measures is the same for both Graco 395 vs Titan 440. Both use 7/8 HP TEFC DC motor with 0.54 GPM.
Graco 395 vs Titan 440 Price Comparison
In terms of best budget-friendly airless paint sprayer, the titan 440 leads over Graco ultra 395. Everyone wants an affordable cheap price for the outstanding product. This is the one reason that the titan impact 440 stands at the top of the best selling airless paint sprayer position in its class.
Interactive Design Comparison Of Graco 395 vs Titan 440
This is the pint for Graco as it is more comfortable to use compared with the titan 440. This does not mean that the other product is useless, both are airless paint sprayer with advance technology and desired features. Ultra 395 pc has an elegant look. Its swivel handle allows the rotation when spraying. So you do not need to rotate your hand while moving the spray side to side.
Graco 395 vs Titan 440 Comparison Of Longer Reach
The hose length is 100 foot longer as compared to ultra 395. The range of spray without moving the equipment is also more for the titan impact 440. Therefore the titan 440 is again dominant here. This nice feature save times while doing professional paint spray job.
Graco 395 vs Titan 440 Warranty Comparison
Both of the Graco 395 vs Titan 440 provide an excellent duration of warranty but the Titan 440 leads with its 4 years of on spot warranty and limited return policy. On the other hand, the Graco ultra 395 pc provides only a 3-year warranty.
Final Verdicts For Graco 395 vs Titan 440 Comparison:
Concluding this article for Graco 395 vs Titan 440 comparison, we have tried our best to provide every aspect of paint machines. The final result makes titan impact 440 as the dominant airless paint sprayer product. Now it is up to you how you add value to your paint spray craft. Make your decision and buy it. This will be best-selling and worth buying an airless paint sprayer.
For more Exciting offers and deals visit Airless Paint Sprayer